---
---
Robert Aubry Davis shows
---
World's Longest Running Early Music Program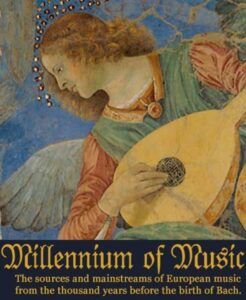 Robert Aubry Davis, hosts and produces MILLENNIUM OF MUSIC, heard on public radio stations nationwide. In addition to this weekly show, Davis also produces radio specials including On Holiday, a series of five one-hour programs that explore the music and culture of different European nations.
Davis is a frequent lecturer and commentator for arts institutions throughout Washington D.C. and hosts the weekly arts discussion program Around Town for WETA TV in the nation's capital. He is a contributing writer to newspapers, journals and cultural publications both nationally and internationally.
After working in public radio for over 20 years, Davis became the program director for two channels on XM Satellite Radio: "VOX," dedicated to vocal classical music from Gregorian chant through opera, and "The Village." Modeled after the public radio program Songs for Aging Children, a celebration of '60s folk music that Davis co-hosted for nearly 15 years, "The Village" is a unique gathering of singer-songwriters across the generations.
---